Why BellaBambi® multi?
Constant negative pressure
No squeezing necessary
The pump sucks constantly and generates an adjustable negative pressure between -50 mbar and -280 mbar. In this way, a suction effect can also be reliably achieved in very narrow or bony areas.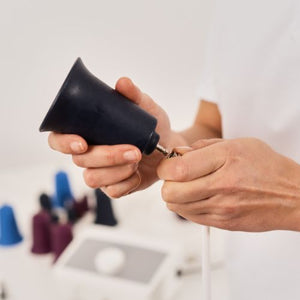 Easy handling
Click, turn, go
The on/off button starts the device. The application is connected quickly and effortlessly using a quick-release coupling. The suction strength can be regulated via a large and easily accessible rotary knob.
Reproducible applications
View and track progress
With the rotary control, the same suction strength can be set again for repeated applications or even increasing applications can be carried out. This also strengthens the commitment of the treated.
Complete cup portfolio
All sizes and intensities available
There are applications for gentle and strong skin contact and different sizes. With the double connection tube , two cups can also be used at the same time.
So versatile
Cupping is used for so many different purposes and in so many different industries. We give you a little insight: