SENSITIVE
For sensitive parts of the body, small joints and gentle applications on the face, neck and décolleté. Also to support rehabilitative measures on small parts of the body.
===
REGULAR
The golden mean: moderately strong negative pressure, ideal for universal use on small parts of the body and on the face as well as on hands or feet.
===
ACTIVE
ACTIVE is ideal for active and sporty people. Small, strong applications on the neck, hands and feet can be realized in this way.
===
INTENSE
For an intensive cupping experience on non-sensitive, narrow parts of the body. Ideal for small, very strong applications, eg on hands, feet and small joints.
Dig deeper
Cupping Techniques
Numerous applications with negative pressure, tension and shearing are possible with BellaBambi®.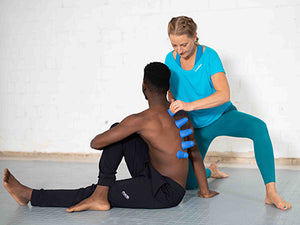 Courses with BellaBambi
In addition to the web seminars, there are also courses from other providers from various industries on the topic of cupping.
Books about cupping
There are now numerous books on the subject of cupping. We have put together a selection for you.