SENSITIVE
For sensitive people, seniors, children and gentle applications from head to toe. Ideal for beauty care or to gently increase self-awareness.
===
REGULAR
For moderately strong applications, eg for cellulite or slight tension. Can be used on the face as well as the rest of the body.
===
ACTIVE
For all active and athletic people or for heavy use on the back, buttocks, thighs and knees. A bit stronger than REGULAR and yet not quite INTENSE!
===
INTENSE
Particularly popular with athletes and people with high muscle tone because of the high suction power. Problem zones on the shoulders, neck and back are preferably treated with INTENSE.
Dig deeper
Cupping Techniques
Numerous applications with negative pressure, tension and shearing are possible with BellaBambi®.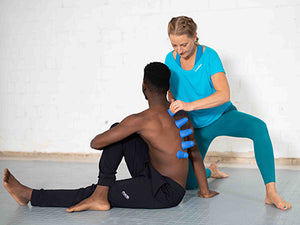 Courses with BellaBambi
In addition to the web seminars, there are also courses from other providers from various industries on the topic of cupping.
Books about cupping
There are now numerous books on the subject of cupping. We have put together a selection for you.