Special, skin-friendly silicone cups are connected to the vacuum pump via a connecting hose.

Thanks to the intuitively operated rotary control, the pressure can be infinitely adjusted from -50 mbar to -280 mbar and transferred to the tissue. The variable suction strength takes into account individual needs even better than "just" different cup intensities.

Special BellaBambi® multi applications are available in three sizes and four intensities (SENSITIVE, REGULAR, ACTIVE, INTENSE) for use with BellaBambi® multi:

///mini: for small-area, selective treatments, especially on joints or on the face

///original: for a variety of uses all over the body

///maxi: for the effortless treatment of large body areas

An optionally available double connection tube enables two cups to be connected at the same time. This makes parallel work or the use of special techniques even easier!
Dig deeper
Cupping Techniques
Numerous applications with negative pressure, tension and shearing are possible with BellaBambi®.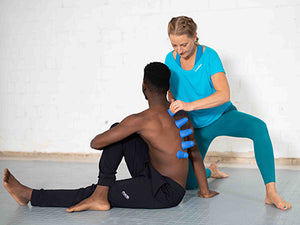 Courses with BellaBambi
In addition to the web seminars, there are also courses from other providers from various industries on the topic of cupping.
Books about cupping
There are now numerous books on the subject of cupping. We have put together a selection for you.